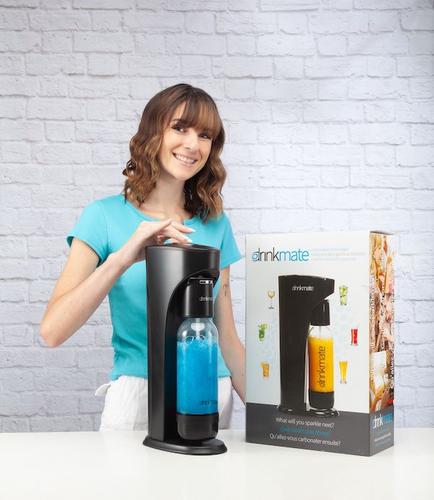 Back to School Essentials! The Drinkmate Carbonation System!
Are you packing up your kid to move to college?
It's a big step! Have you considered all the dorm room essentials they'll need? 
What about fridge space in their dorm room?
Space can be hard to come by on campus! With the Drinkmate countertop or instaFizz, you can carbonate almost any drink without taking up too much fridge or counter space. 
Help your college student stay hydrated and refreshed throughout the school year with Drinkmate during important studying sessions and football practice! Perfect for college athletes, the brainiacs, or those people who are trying to stay healthy!
Do they love carbonated drinks? They'll never be without bubbles when they carbonate their own drinks with the Drinkmate soda maker.
Never run out of your favorite bubbly soft drinks!
Save money!
Carbonate on-the-go with the instaFizz!
Resolve storage issues
Try Drinkmate's Premium Italian Syrups!
Your sparkling drink options are endless with our 6 flavors including: Blood Orange, Sorrento Lemonade, Mojito Mocktail, Ginger and Lemon, Pink Grapefruit, and an Energy Drink mix.
All syrups are manufactured in Italy with the following features:
Made from Premium Italian ingredients
17oz (500ml), low calories, low sugar (cane sugar), made with natural flavors
Icy-effect bottle reflects sun-light to keep a 2-year shelf life
Drinkmate Countertop Voted "Best Soda Maker for Big Bubbles" by Esquire
Drinkmate offers some of the best at home soda water makers worldwide. Our proprietary Fizz Infuser technology gives you the freedom to carbonate almost any beverage. Not only water, but juices, cold tea or coffee, wine, cocktails, and more. Whether you want to create healthy sparkling drinks or craft cocktails, we've got you covered. 
The First Stainless-Steel Water Bottle That Carbonates Anything!
Skip the expensive beverages that come in single-use plastic bottles and create your own carbonated drinks! Make your own sparkling water, juice, lemonade, tea, or coffee; you can even freshen up soda that has gone flat! Add delicious fizz with one twist. instaFizz also has a wide mouth opening for delicious additions such as lemons, berries, herbs, and/or ice! 
Our products are sold in Canada, UK, Taiwan, and Japan. Your satisfaction is important to us. That's why we have a two-year warranty for consumers and a one-year warranty for commercial users.