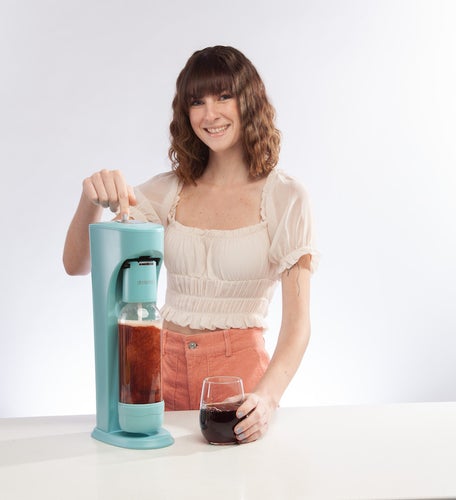 Drinkmate Celebrates Fall 2021 with Color Expansion
Just in time for the fall and holiday season, Drinkmate, a leader in the home carbonation category, is expanding their line of home carbonating systems to include an arctic blue model. Carbonated beverage lovers can now add a pop of blue to their kitchens while enjoying healthier drinks from carbonated water to juice, and even cocktails. 
The new Arctic Blue color is a soft, pure, breezy bay blue with a twilight blue undertone. The perfect compliment to any kitchen, Drinkmate enables users to add personality with the new 2021 color expansion. The Arctic Blue home carbonator joins the existing color line that includes black, red, and white models. 
Drinkmate's countertop unit is one of the leading home carbonation systems available in the United States, Canada, and the United Kingdom. Its proprietary technology allows consumers to carbonate any kind of beverage safely and quickly. 
"We're excited to offer carbonated beverage lovers with our new Arctic Blue model," said Douglas Wang, Chief Executive Officer of Drinkmate. "It's always been part of our mission to provide aesthetically pleasing units that don't distract from our consumers' decorating style. With the Arctic Blue expansion, they can now choose a pop of bright color to represent their unique personality." 
The new Drinkmate Arctic Blue carbonator is available online at Drinkmate.us and coming to other major retailers throughout North America later this summer. MSRP $99.95.