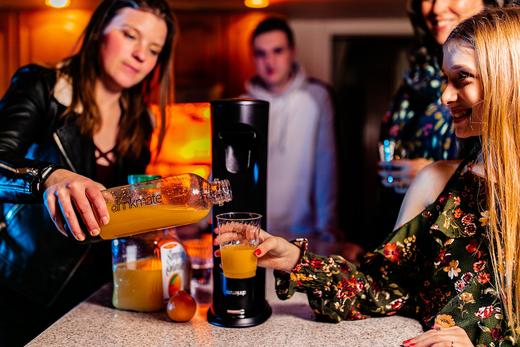 Drinkmate – NOT Just Another Carbonated Water Maker!
You're healthy, or at least trying hard to get healthier.
You're engaged, making good decisions about your purchases and the environment.
You're joyful! You take the extra time to make your life energetic and happy!
So, when you shop for a way to make your drinks tastier and healthier, are you going to buy just another carbonated water maker?
Sometimes It's Like Swimming Upstream
You've probably noticed that when it comes to healthy decisions, most of the world seems to be working against you! Food with too much sugar and salt, drinks with too much sugar, uninspired flavors, little or no care for the planet. The trend toward low or no sugar sparkling drinks has helped, but most choices don't offer you much of a choice!
Wouldn't It Be Helpful to Be Able to Carbonate Any Drink?
The team at Drinkmate got inspired to create a carbonated water maker that doesn't just add sparkle to water … then force you to add syrup or some other flavoring. 
They found a way to make a machine that can carbonate virtually any drink, including things like power drinks, cocktails, juice, cold brew coffee, and much, much more. No need to add syrup or flavorings! They keep coming up with new and better ideas to bring refreshing carbonated drinks to your kitchen, your campsite, or your backpack, and to help the environment at the same time.
We've said it before – with Drinkmate you can avoid lugging boxes of bottled or canned water home and then lugging the empty containers back to the store for the deposit. You can make sparkling water with the Drinkmate and add absolutely no sugar. The Drinkmate carbonated water maker can work its magic on virtually any drink. Instead of buying bottles and cans, you just send the CO2 cylinders back to us for re-use and get credit to use when you order new ones. Drinkmate can help you save an average of more than 500 plastic bottles per year!
Easily Get the Drinkmate or the Drinkmate Spritzer
Buying your Drinkmate carbonated water (and more!) maker is easy. Just select the product you want here and add it to your shopping cart!
Ordering new CO2 cylinders is easy! Drinkmate will take back your empty CO2 cylinders to be cleaned, inspected, refilled, and reused. We automatically include a prepaid return label on all new CO2 pack orders. Just reuse the box and apply the supplied label. When we receive them, we'll email you a gift card rebate for your next purchase!
Drinkmate comes with a 2-year consumer warranty and a 1-year warranty for commercial use. The Drinkmate Spritzer is warranted for 1 year of consumer use, and six months for commercial use.
Don't Wait – It's Time for Some Sparkle!
Ready to buy the Drinkmate or the Drinkmate Spritzer? Shop here! You'll love the extra carbonation in your life!