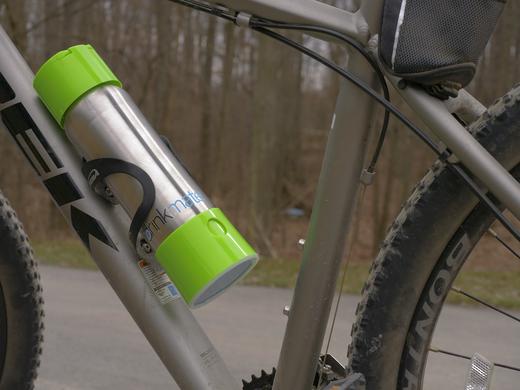 instaFizz- The First Stainless-Steel Water Bottle That Allows Carbonation!
Wouldn't it be great to reduce the amount of plastic waste in our oceans?
How would you like to take your carbonated water maker on the go with you?
How would you like to not only keep your beverages cold for hours on end but also keep them from losing their carbonation?
This can all be possible with instaFizz from Drinkmate! The instaFizz will change the way to drink water forever!
Next Level On-The-Go Carbonation Technology!
Enjoy a sparkly drink on a bike ride, picnic, on the beach or on a road trip. You'll never think about your other water bottles again. Goodbye old generation water bottles – hello to the new!
Not Your Traditional Reusable Water Bottle
The instaFizz features a carbonation system that enables you to add the excitement of fizz in just seconds to your hydration of choice. Fill your favorite cold beverage to the maximum fill line, insert an 8g CO2 charger into the bottom of the Drinkmate instaFizz bottle. When you spin the bottom cap, voila – refreshing carbonated water instantly!
After carbonation, slowly unscrew the cap to avoid a potential burst of foamy goodness (close the cap if foam is escaping). After the gas is fully discharged, remove the cap and start sipping!  
The reusable stainless-steel water bottles come with a built-in carry ring that allows it to be taken anywhere. And it holds 21 ounces for non-carbonated drinks, and 15.5 ounces for carbonation. That's more than the typical plastic water bottle. 
The stainless-steel construction makes the instaFizz highly durable, eco-friendly and a healthier option as compared to plastic bottles. Our patented design and technology comes with a built-in valve system on the cap. The product is also easy to clean and maintain. And for those who like their still and sparkling water icy cold or fruity flavored, the Drinkmate instaFizz has a wide 1.5-inch bottle opening to allow ice, strawberries, or lemon to be added with ease. 
Better for you, and better for the environment!
Add a little sparkle to your life! To get started, shop here or browse some fantastic recipes and imagine yourself sipping one made from the best soda maker around. 
Be on the lookout for more innovative products from Drinkmate to enhance the way you drink water!